Suzaku High School
Kanji

朱雀高等学校

Rōmaji

Suzaku Kōtōgakkō

Location Statistics

Affiliation

Suzaku High School
Suzaku University

Debut

Manga Debut
Anime Debut
Suzaku High School (朱雀高等学校 Suzaku Kōtōgakkō), also known as Suzaku High, is the main location of the series.
Location
Uniform
History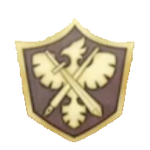 Education
Among the subjects that are given in Suzaku Highschool they are:
Third Year
Modern History B
Classic Literature B
World History B
Geography B
Politics/Economics
Math 3
General Math
Family Studies
Biology
Chemistry
English R
English G
Conversational English 3
English Expressions 2
Music
Physical Education
Students
Areas
Other Buildings
Suzaku High School Clubhouse
Legends
There is a legend in Suzaku High School that some of the students will gain a Witch's power when they enter the school.
Ad blocker interference detected!
Wikia is a free-to-use site that makes money from advertising. We have a modified experience for viewers using ad blockers

Wikia is not accessible if you've made further modifications. Remove the custom ad blocker rule(s) and the page will load as expected.